Newdex Introduction
Newdex is the world's largest EOS based Decentralized Exchange, which is developed and operated by Newdex Inc. With free flow of digital assets as mission, Newdex continues to explore the "multi-chain and cross-chain" decentralized trading model. Upholding the characteristics of safe, fast and transparent, Newdex is devoted to creating a new-generation digital assets trading platform, opening a new era of decentralized trading.
Founded on August 8, 2018, Newdex was launched on EOS firstly and has supported EOS side chains such as BOS, TELOS, FIBOS, MEETONE, ENU, WAX and LYNX. Newdex has become the largest EOS based Decentralized Exchange. In August 2019, in addition to running on EOS, Newdex has also launched TRON based Decentralized Exchange united with TRON official, ranking top 5 among TRON based Decentralized Exchanges. Since then, Newdex has deployed "multi-chain and cross-chain" decentralized trading platform successfully.
Newdex is born for decentralized trading, which will explore new form of decentralized trading extensively in the future, energize major blockchains, and strive to become the infrastructure of blockchain industry.
Operating Mechanism
1/ Newdex (EOS version) has deployed the smart contract with the operating mechanism "matching and settlement on chain".
2/ Newdex (TRON version) has adopted the operating mechanism "matching off chain and settlement on chain".
Project Characteristics
Data on chain, Open and Transparent
Use blockchain technology to realize that order information can be checked on chain. Relevant transaction data is transparent, tamper-proof and real-time checkable to avoid the internal manipulation of Exchange;
Trustworthy, Highly Secured
Newdex has no access to user's private key and the users retain full control over their funds, which avoid the risk of asset-stolen, misappropriation of assets, and capital flight, effectively protecting the security of user's assets;
Convenient Trading, Receiving in Real Time
Trading account is decentralized with no registration, no deposit, no withdrawal and receiving assets in real time upon completion of transactions, providing users with convenient operating experience;
Focus on Liquidity, Various Activities
Support free flow of various tokens and list tokens in time, so that token assets in user account can be quickly realized; organize various activities to enrich lives of users.
Technical Innovation:
1/ Code scanning trading via Wallet: The first Exchange to achieve the seamless cooperation between Exchange platform and Wallet in the world, realize trading functions of code scanning for login, pending order, cancelling order, etc.
2/ Trading via embedded Wallet: The first Exchange to launch "embedded Exchange Platform", offer one-stop service of token trading for users within Wallet.
Cooperative Teams
EOS Wallets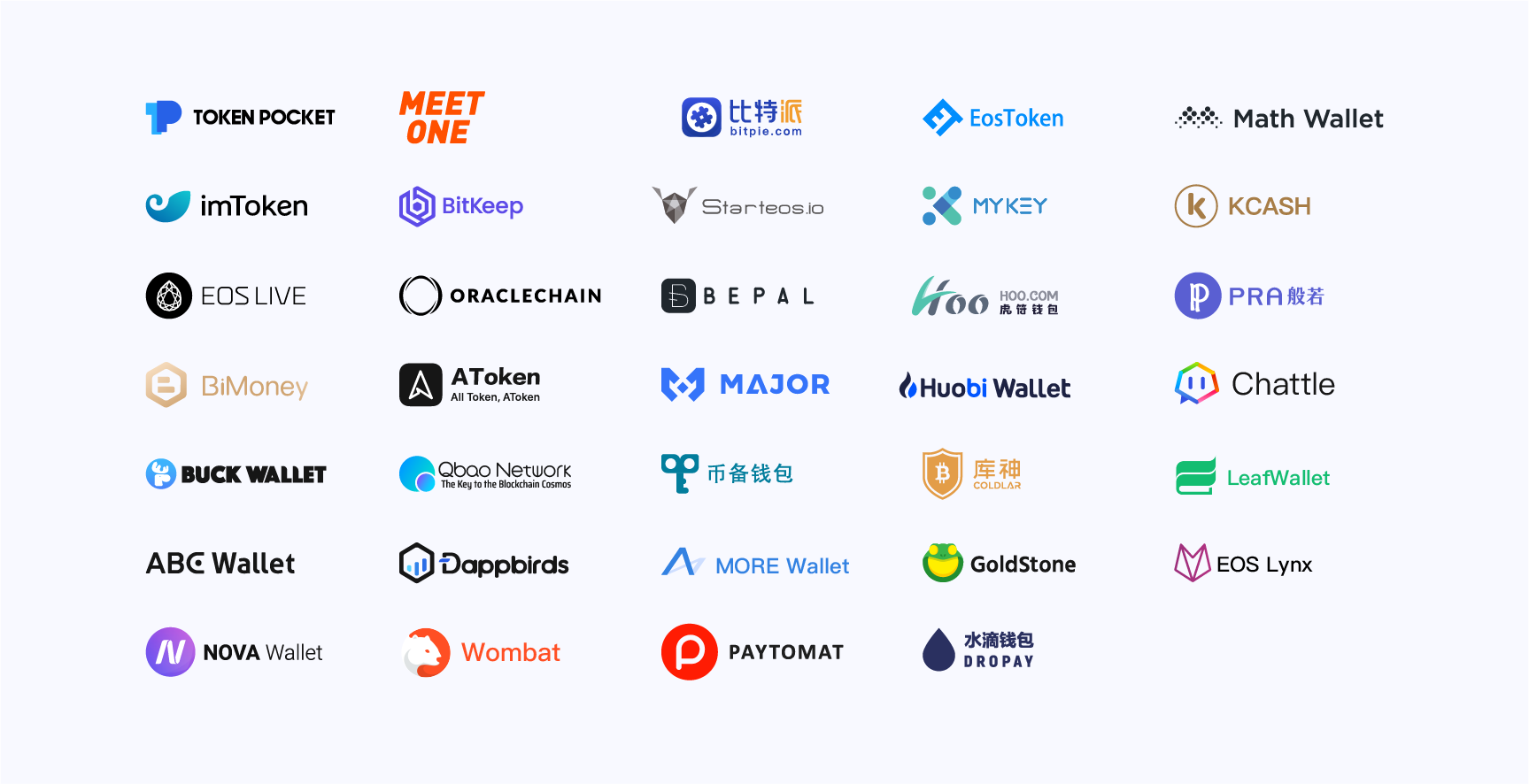 TRON Wallet


Cooperative Partners


Development Milestone
August 8, 2018
Newdex was launched as the world's first EOS based Decentralized Exchange officially;
August 31, 2018
Newdex launched the function of trading via Wallet code scanning firstly;
September 8, 2018
Newdex was embedded in Wallets as Dapp, providing globally one-stop trading service within Wallets;
October 24, 2018
Newdex became the Decentralized Exchange with largest trading volume in 24h;
November 2, 2018
Newdex APP was officially launched;
December 12, 2018
Newdex listed stable coins, supporting cross-chain trading;
December 31, 2018
Newdex launched Platform Certificate NDX, with 185 million trading volume in 24 hours after launching.
January 22, 2019
Newdex launched VIP function, staking NDX to enjoy airdrop benefits and VIP member privileges;
February 2019
Newdex reached an important strategic cooperation with Wallets to prosper the EOS ecology together;
February 2019 - April 2019
Newdex opened BOS, MMET.ONE, ENU, FIBOS and TELOS trading zones;
April 2019 - May 2019
Newdex officially launched global influencer recruitment to make decentralized trading popular;
June 18, 2019
Newpool, the world's first decentralized staking mining pool invested by Newdex, was officially launched;
June 30, 2019
Newdex.bp was elected to EOS BP to prosper EOS ecology with users;
July 1, 2019
Newdex has deployed the smart contract "matching and settlement on chain", which became the most Decentralized Exchange in the whole network.
August 8, 2019
Newdex.bp ranked first on EOS BP with 180,691,184 votes, and Newdex celebrated the first anniversary.
September 28, 2019
Newdex officially launched the TRON Exchange united with the official;
November 12, 2019
Newdex launched free CPU trading function for Newdex VIP members;
December 25, 2019
Newdex realized USDT cross-chain conversion;
January 17, 2020
Danchor, the decentralized staking stable coin project invested by Newdex, was officially launched;
March 20, 2020
Newdex launched the "Cross-chain deposit and withdrawal" feature to meet users' cross-chain trading needs for EOS chain, BTC chain and ETH chain;
April 02, 2020
Newdex launched the "Swap" feature, providing an interface for users to seamlessly swap EOS tokens on EOS chain;
May 18, 2020
Newdex launched the "multi-account switch" feature (pc) to meet the user's multi-account trading needs;
June 10, 2020
Newdex strategically invested in Leaf Wallet, committed to bringing users a better decentralized trading experience;
June, 2020 - July, 2020
Started the Newdex Influencer Global Recruitment (Second Season) activity to carry out decentralization to the end;
July 10, 2020
Newdex set up EOS DeFi special development fund - Newdex Seed, to promote the prosperity of EOS ecology;
July, 2020
Newdex platform token NDX was listed on Hoo Exchange and PizzaLend;
July 21, 2020
The EOS one-stop DeFi application platform Defibox funded by Newdex was officially launched;
July 22, 2020
Newdex was officially listed on CoinMarketCap, the authoritative crypto market website;
July 23, 2020
Newdex launched Newdex Lab, empowering blockchain application development.