Dear Users:
Hello! The ECTT trading contest has ended. According to the requirement from ECTT project side, because of the volume faking actions of yyyy***wwwww, liu***j12345 and eosne***xio5, their corresponding ranking awards are cancelled and changed into participant prizes instead, and their transaction fee will be returned, which would not happen again if there is another case.It is forbidden to fake volume or self-trade. Participants are requested to abide by the rules of this event conscientiously.
The final awards list of ECTT trading contest is as follows: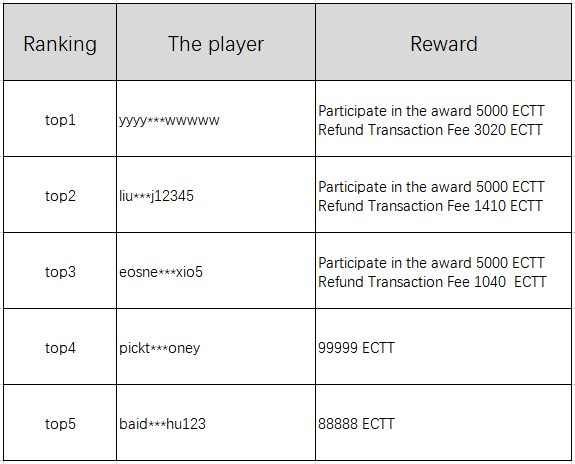 Note: There is no operation required for winners, the official airdrop account newdexwallet will directly airdrop the awards to the corresponding winning accounts, please be minded to check!
The final interpretation of this event belongs to Newdex. If you have any questions, please contact Customer Service.
More Event:
New Year Token Rain! 30000000 BEST Rewards to win!
Find us on:
Official Twitter: https://twitter.com/NewdexOfficial
Newdex team
December 29, 2018