Newpool is a new generation of Staking pool and the world's first decentralized pool without transferring coins, which realize true "zero" risk and provide users with safest pool.

BP Rules of BOS Mainnet

1、Each BOS account can getthe votes voted for BPby buying REX or staking CPU/NET. The votes = the number of BOS that buy REX or stake CPU/NET, 1BOS=1 vote;
2、Each BOS account can vote for 30 BPs at the same time, supportingthem to campaign for BP (Block Producer);
3、Each BOS account can also entrust voting rights to a certain proxy account, and the proxy account will manage your vote uniformly;
4、The top21 BPs automatically become BP and participate in producing block in BOS mainnet.
5、BP participating in the BOS mainnet, can obtain both producing blockrewards and voting rewards, collectively referring to BP rewards;
6、The producingblock reward is related to the number of blocks, the more blocks you produce, the more rewards you will obtain;
7、The voting reward is related tothe proportion votes (the vote you get / total votes), the higher proportion of votes, the more rewards.

Newpool Mechanism (BOS)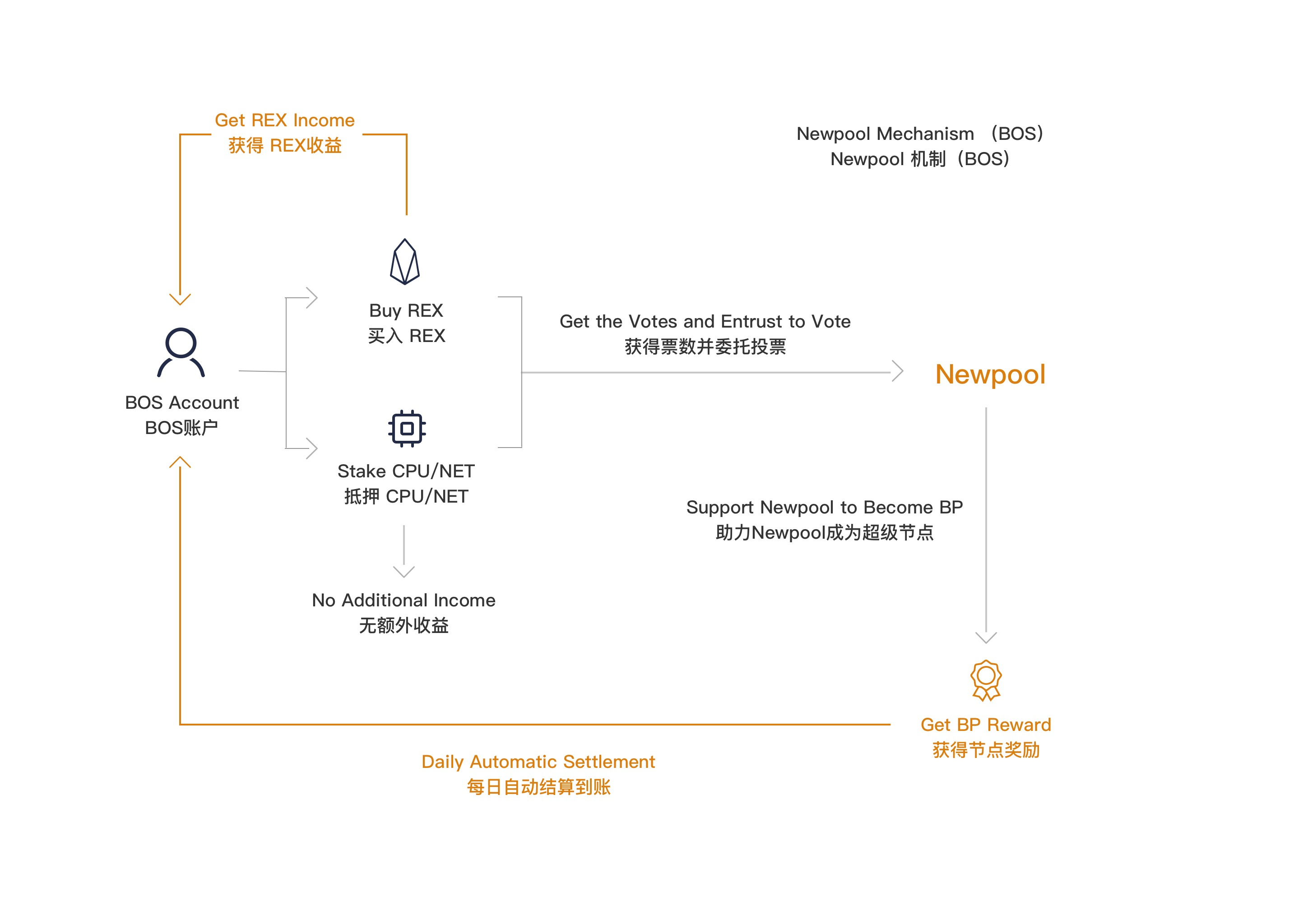 You only need to buy REX or stake CPU/NET, get the corresponding votes, entrust the voting right to Newpool's proxy account,and then you can participate in Newpool mining successfully.

Newpool will try his best to become BP and automatically settle daily rewards(producing block reward + voting reward) to all users involved in mining.

Pool Comparison (BOS)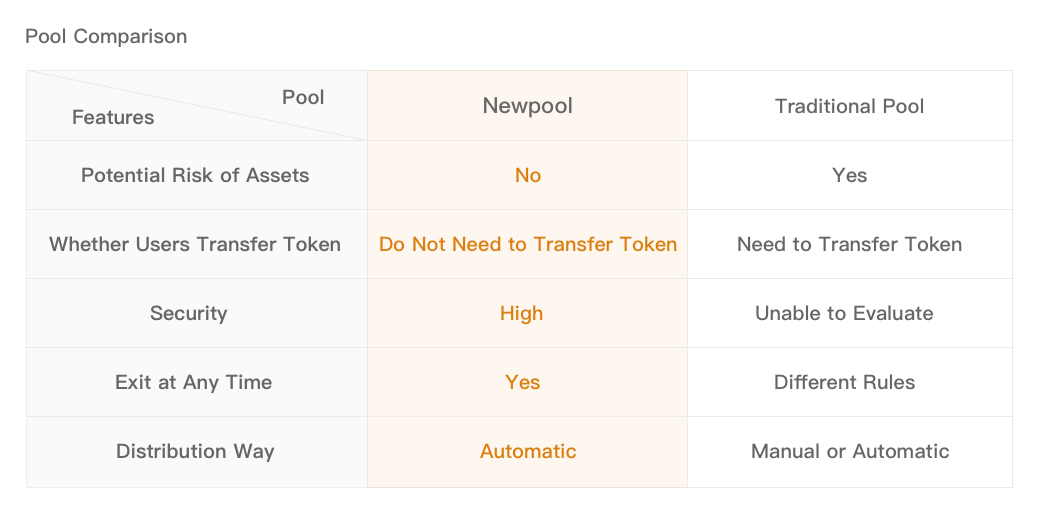 FAQ
1/ What is REX?
Please click on here to know about REX.
2/ What is CPU/NET?
Please click on here to know about CPU/NET.
3/ How often are mining amount updated?
The Newpool system is updated and counted every 3 minutes.
4/ I add or reduce the mining amount in a day, how will I make sure the mining amount this day?
Newpool system updates and counts real-time mining volume of all users every 3 minutes. Finally, at daily 24:00 UTC (Beijing time 08:00), the yesterday's mining volume of each user will be counted by the weighted average algorithm. This can guarantee fairness and justice.
(If you cancel/replace proxy, BP income of the day will be distributed to other users.Detail>)
5/ After participating in mining, when the income is calculated?
Calculate income in real time. Newpool begins to accumulate your income in real time after you have successfully participated in the mining. (If you reduce or exit mining immediately within 3 minutes, the income may not be able to accumulated.)

6/ Why did my yesterday's annual yield not reach yesterday's highest annual yield?
Combine the answers to questions 4 and 5 above. If you add/reduce mining amount yesterday and mining time is less than 24 hours yesterday corresponding to mining amount, you can't get yesterday's full-day benefit and can't reach yesterday's highest annual yield.In addition, if your mining amount is relatively small, due to BOS precision problem, the annual income will become smaller after intercepting 4 decimal places.
7/ When will I receive my yesterday's BP income?
At daily 02:00 UTC,Newpool system automatically starts counting and transferring the yesterday's income to each user, which will be received within half an hour.
8/ When will yesterday's REX income be settled and received?
Due to the limitations of BOS mainnet rules, your REX income will be accumulated daily,and it will be settled by the BOS mainnet when you sell REX.
9/ I have successfully participated in mining, why not receive yesterday's BP income?
(1) When BP income (single day)<0.0001BOS, it cannot be transferred normally;
(2) When BPincome (single day)= 0.0001 BOS, after deducting 10% management fee, the actual income <0.0001BOS, it cannot be transferred normally;
(3) When BPincome (single day)>0.0001BOS, and not receive the income, please contact Support or submit We will solve the problem for you in time.

10/ What Is Mining Weight Reduction?
According to the BOS main net rules, after a time of delegating vote, the corresponding voting weight will gradually reduce. Confirm to delegate vote again simply and you can avoid reduction in time.
Therefore, after comprehensive consideration, Newpool will reduce in 30-day cycle. When more than 30 days after your delegating operation last time, reduce 5% every 30 days (5% of your latest mining weight), till reduce to 50%. Your BP income will also reduce in equal proportion.
If it is about to exceed 30 days after your delegating operation last time, the page will remind you obviously and guide you to complete the action of delegating vote again quickly when you open Newpool.