Dear users:
The activity of "XDAP Trading Contest,Dual Benefits with 550,000 XDAP " has ended.The final winning list is as follows:
Activity 1: XDAP/EOS Trading Ranking Contest, Divide 400,000 XDAP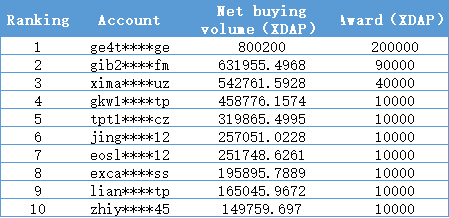 Activity 2: XDAP/EOS Trading Standard Contest, Divide 150,000 XDAP Equally


Note: User does not need to do any operation. The official airdrop account "newdexsender" will directly airdrop to the corresponding winning account within 7 working days after the activity ends. Please check it in time!
The final interpretation of this activity is owned by Newdex. If you have any questions, please contact Support.
Thank you for your concern and support on Newdex!
Newdex Team
December 24, 2019
Find us on:
Twitter: Follow