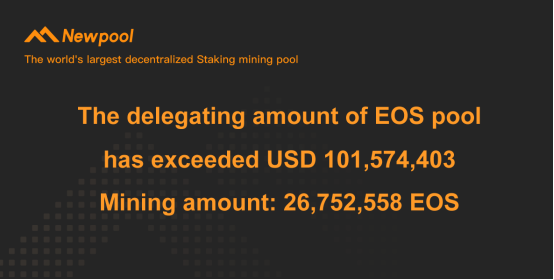 Dear users,
Newpool's data today: The delegating amount of Newpool (EOS) has exceeded USD 101,574,403, up to 26,752,558 EOS (The 24H highest price of EOS: USD 3.98).
The Newdex annual report points out that Newpool's total cumulative dividends is 300,000 EOS in 2019, 3% + APR in EOS pool. At present, Newpool has supported mining on EOS, TRON, IOST and BOS chain. Among them, EOS and BOS have ranked in top 21 BPs. The highest yesterday APR of BOS has reached 66.99%.
You just need to delegate your votes to enjoy the benefits from the nodes with no coin transfer. With the sharp increase in APR of decentralized mining pools and the increase in the level of blockchain users' awareness, users will be more willing to keep their own private keys and control assets themselves, or maybe trigger a withdrawal coin movement in the future.
What are you waiting for? Join us now: https://newpool.io
Risk Warning:
Newpool does not endorse any project, please be careful in trading.
Newpool Team
January 15, 2020