Dear users,
Hello! The "EOS/USN Aggregate Trading Contest Rewards worth of thousands of dollars await you" activity has ended. Congratulations to the user (account: tra***.sx) for becoming the No. 1, the prize is DJI Mini 2 (Aerial Camera Fly More Combo). Please submit request in time. The complete reward list is as follows: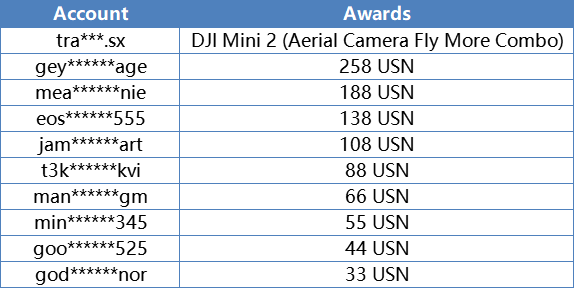 Note: There is nothing to do for users who receive Token reward. The official airdrop account "send.newdex" will directly airdrop to the corresponding winning account within 7 working days after the activity ends. Please check in time!
The final interpretation right of this activity belongs to Newdex. If you have any questions, please contact Support.
Thank you for your attention and support to Newdex!
Newdex Team
May 8, 2021
More Interactions:
Official Twitter: follow