Dear users,
Greetings! Newdex(BSC-Beta) has finished the feature updates as follows:
1.Supplementary of the history data in K-line chart
The market data will be read based on the initial establishment date of the liquidity pool, and it was previously read from the token listing date in Newdex. The trading data in the K-line chart display the market trend of the specific token, providing meaningful K-line data as a visual reference. The Newdex AGG automatically displays the average price route of MA 5/10/30, which is comparable to a CEX.

2.Optimization of the core algorithms
In addition to the "Max return" and "Lowest gas" algorithms, Newdex has added the upgraded algorithm V2 on the basis of "Max return", taking the variable gas fees into consideration. Newdex will automatically calculate and "Recommend" the trading method with the best profit among the three algorithms to users.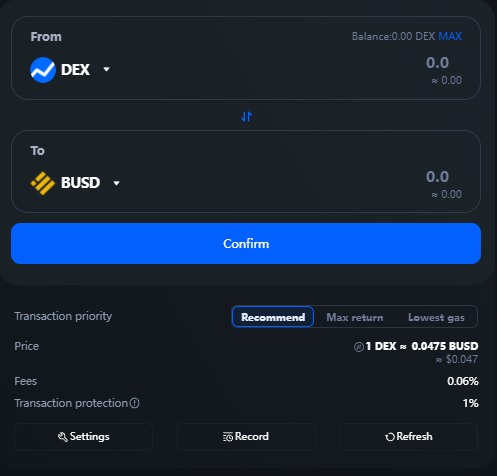 V2 algorithm details: token value (X) = value of "Max return" from multi-path (N) – estimated gas fees (G)
Newdex will try to maximize the amount of X through the optimized algorithms.
For example:

*All data are calculated in a theoretical environment ignoring BNB price fluctuations and USD valuation deviations.
We can draw conclusions as follows:
Transaction priority 1: Lowest gas fee (recommendation for small transactions)
Decrease the gas fees (G) through decreasing the amount of trading path (N) for the best trading depth.
Suitable situation: Due to the small transaction amount, even if more tokens can be obtained through multiple paths (N), it is often unable to cover the gas fees (G). Therefore, small transactions are suitable for Lowest gas fee, which is also the most basic swap function.
Transaction priority 2: Max return (recommendation for large transactions)
Increase the token amount by aggregating multi-path(N) from different liquidity pools for the best trading depth.
Suitable situation: Aggregate trading depth to obtain the most tokens, which will cover gas fees(G) of multiple paths(N).
Transaction priority 3: Recommend (System recommendation)
Increase the actual profit of the transaction by comparing the token value (X) and the gas fees (G) from multiple paths (N).
Suitable situation: Help evaluate the value of tokens and reduce losses, suitable for budget-conscious customers.
Newdex will continue to develop better products to provide a more convenient trading experience.
Risk Alert: Newdex does not endorse any project. Please be aware of all potential risks before you make investment decisions.
Thanks for your support and trust all the time!
Newdex team
October 13, 2021
Communities
Twitter: https://twitter.com/NewdexOfficial